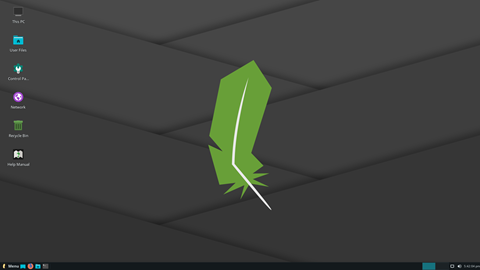 Linux Lite is Breathing Life Into Old PCs
Old computers become slower for various reasons. For example, their hardware may be no longer equipped to run any of the new programs. The software updates may also be too much for their current RAM, causing them to slow down. These issues can be incredibly frustrating to deal with, and when this happens to you, you may even be tempted to replace your old computer with a brand-new model. However, if speed is your only problem with the device, then you may not have to throw it away. Just change its OS to Linux Lite.

Installing the bare minimum

Unlike Windows and macOS, Linux doesn't have one owner. Instead, several people work on multiple parts of its system, from the Linux kernel (the core of the OS) to the X server (which is responsible for display graphics). Linux Lite is a distro—or a packaged Linux OS—that delivers the more lightweight version of every part, enabling even the oldest of hardware to run it efficiently.

Linux Lite will only install the barest menus. There's no bloatware or software the OS forcefully keeps in the system (like MacOS's iTunes and the Windows Microsoft Store). With so much free space left, CAD and PCB design software created for Linux will boot immediately, despite their program-heavy nature. Users of these kinds of software need to layout stacks, route trace topologies, and access a wide range of library parts. But as long as the computer has enough memory to store the files in, Linux Lite will run them nearly as fast as any other OS.

The best part? Linux Lite is free to download.


Comparing it to a modern OS

VIDEO: https://youtu.be/W4A6BwJQm9w

For an OS that can run on old hardware, its design is surprisingly sleek. The icons are very minimalist—closer to Windows 10's design more than anything. Linux Lite will also allow you to install apps like Skype, Spotify, Dropbox, and other software that are already optimized for the interface. It even has access to Steam, allowing you to play every game on the platform that's supported by Linux.

System requirements

While being the ideal OS for old computers, Linux Lite still has a minimum threshold that your hardware should meet. For example, your computer needs to have at least 800 MB of RAM and a VGA screen resolution of 1024×768. Your computer's CPU speed also has to be higher than 1 GHz. Most laptops within the decade should have at least double these specifications, further emphasizing the system's accessibility on low-end computers.

However, the OS needs a minimum storage space of 8 GB to perform at its full capacity. The installer also comes in at around 1.5 GB. But if you don't want the extra load, running it from a USB should be more than okay.

Linux Lite is far from the most lightweight distro available. In fact, Linux packages like Porteus and Lubuntu are a lot smaller. However, in terms of usability, features, and performance, you won't find a better OS than Linux Lite.

If you're new to Linux, check out our Linux guide on permissions and file distributions.


Allen White
Allen is an IT Consultant and holds the following accreditations. MCSA, MCSE, MCTS, MCITP, CCA, CCSP, VCP 4,5, 6 and HP ASE, AIS - Network Infrastructure.