Common Standard Protection:Prevent termination of McAfee Processes Ccmexec.exe
Had this issue on a Mcafee Epolicy installation recently, deployed Virus Scan 8.8 to all clients then after a few hours checked to see if there where any detection's. Sure enough there where detection's from the following files that had tried to shut down the mcafee services (which I disabled via access protection).
–  Smsexec.exe
– Ccmexec.exe
– CmRcService.exe

I excluded these from being scanned as the client uses SCCM intensively.It was not enough, the error renamed. What I had to do was modify the Access Protection rule.

Once in your policy, edit the prevent termination of Mcafee processes rule.

You will then see the following screen, simply added the exe files that are being picked up incorrectly.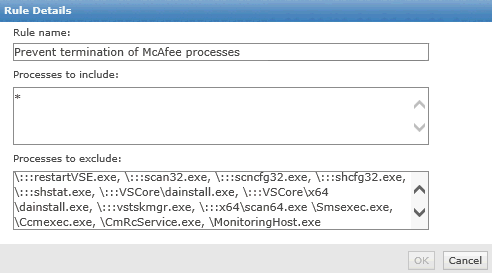 Then simply click ok and save, remember to allow the clients to either pull the new policy or you can push it out again with a wake-up agent call. You can see the official article mcafee published here.
Tags: mcafee
Allen White
Allen is an IT Consultant and holds the following accreditations. MCSA, MCSE, MCTS, MCITP, CCA, CCSP, VCP 4,5, 6 and HP ASE, AIS - Network Infrastructure.