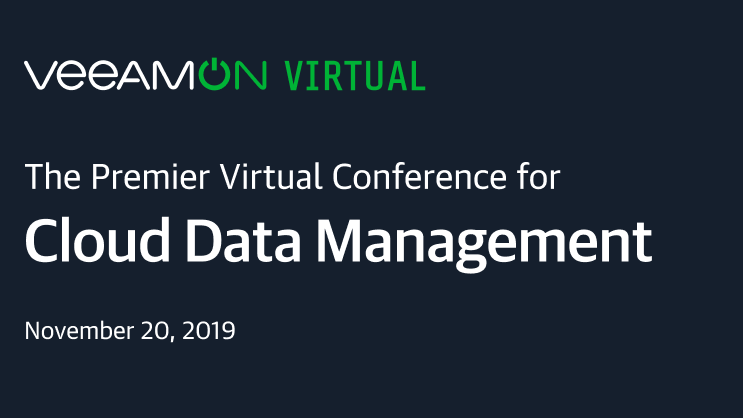 Not long to go now until Veeam on Virtual 2019 on November 20, 2019.
You can join the premier virtual conference where Veeam will bring the latest and greatest in data protection, security and management directly to you.
You can engage with Veeam's leading experts, partners with 5,000 attendees and receive exclusive access to sessions and content that will keep you on top of the new innovations, tools and techniques needed today.
20+Speakers / 5 000+Attendees / 1000+Minutes of content / 24+Hours of online streaming .
Agenda
Vision & Strategy
VeeamON Virtual provides the latest insights and predictions for Cloud Data Management. Veeam will highlight predictions that will remain top of mind for 2020, including ones that will affect the backup and Availability markets. Understanding these predictions and preparing for them ahead of time will allow organizations to enhance and optimize their Cloud Data Management practice.
Implementation Best Practices

There are many new capabilities that Veeam is bringing to market. In this session, Melissa Palmer and Karinne Bessette from Veeam Product Strategy will provide an overview of new capabilities you can expect from Veeam in the near future.

Cloud-Powered
The case for backing up Office 365 data
Do you truly have complete access and control of your Office 365 data? The common reaction is typically, "Of course I do," or "Microsoft takes care of that for me." The reality is that Microsoft protects the underlying infrastructure in Office 365, but customers are still responsible for protecting their own data. For this reason, Veeam Backup for Microsoft Office 365 was one of Veeam's fastest growing product lines of 2018 and trending towards this again in 2019. In this session, we will cover the six critical reasons for Office 365 backup and the Office 365 Shared Responsibility Model and go through an overall demo of how to back up and recover Office 365 data quickly and seamlessly.

Architecture & Design
Enterprise applications — How to easily recover your data
Join us to learn about ways that Veeam simplifies backup and adds flexibility to meet recovery objectives for your enterprise workloads. Tap into key insights from the experts on protecting your most critical applications including SQL, Exchange, Oracle and SAP HANA.
Plus so much more in each session! Click to the left or the image below for more information.
Allen White
Allen is an IT Consultant and holds the following accreditations. MCSA, MCSE, MCTS, MCITP, CCA, CCSP, VCP 4,5, 6 and HP ASE, AIS - Network Infrastructure.