After a great Veeamon Virtual experiance, our friends at Veeam have provided a summary of links of what we can expect in the near future, check it out.
Veeam Availability Suite v10
Scale-out backup repository – Immediate backup copy to the object storage. Before, the cloud tier automatically moved older backups to the object storage. Now you can send backups to object storage once they are created.

Object Storage immutability. Lock backup files using native object storage capabilities to prevent ransomware from deleting them.

NAS backup – backup SMB and NFS file shares. You can restore an entire share, or individual files, or rollback to previous versions of your files.

Instant restore to VMware. Similar to instant restore to Hyper-V. Supports both virtual and physical backups
Veeam Backup for Office 365 v4
Cloud native Veeam Backup for Azure & Veeam Backup for AWS backup for EC2 instances.
Stand by for more information about them.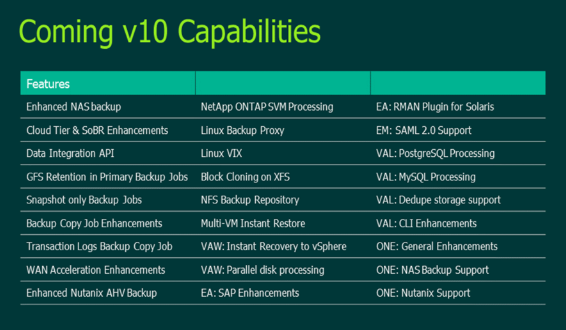 Allen White
Allen is an IT Consultant and holds the following accreditations. MCSA, MCSE, MCTS, MCITP, CCA, CCSP, VCP 4,5, 6 and HP ASE, AIS - Network Infrastructure.