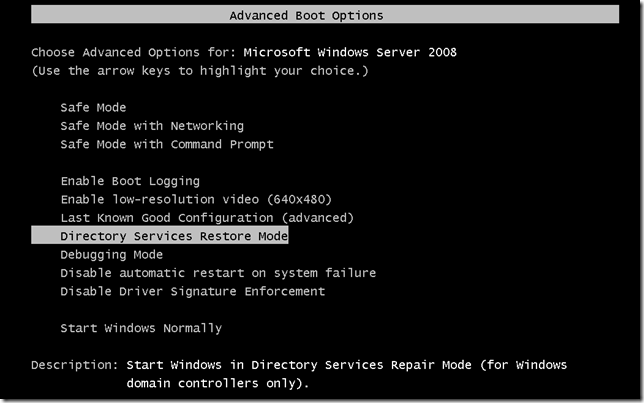 Domain Controller in Directory Services Restore Boot Loop
IT Problem
Came across this issue a few days back on a SBS2008 Server and it took AGES after going through the usual diag routes to get it resolved, the clients Domain Controller after a reboot booted into directory services restore mode.
(Update:I believe this error was down to the user removing snapshots manually that veeam had created when it had failed to backup. Manually deleting the snapshots caused the issues.)
Strange I thought, so another reboot and the same, directory services restore mode.The domain controller was in a directory services restore mode loop.Then the diag process started , did an AD database integrity check, did a scan disk of the volume, CHKDSK /f. Ran MSconfig and set it to boot into normal mode. I also noted that under the environment variable section under My Computer > Advanced, there was a variable saying SAFEBOOT – DSREPAIR, so I deleted that. no success.
It was with reluctance that I then tried to do a restore of active directory, so once i restored to a week old backup , guess what…it did EXACTLEY THE SAME. I just could not understand what was happening. Finally I did the steps below and after a reboot the server came up clean.
IT Solution
The first thing you need to do it locate your "boot" folder, most of the time it is on the root of C however on my server which was a HP ml350 G7 it was on a hidden drive. So if this is the case Right click Computer > Manage > Disk Management. Then right click the volume and allocate it a drive letter.
Ok, so go to that drive then CD into the boot folder. We then need to run the commands below.
	bcdedit /set safeboot dsrepair

	bcdedit /deletevalue safeboot

	shutdown -f -r

What this does is clear the DSrepair status from the registry so the server can boot normally, in msconfig if you set the server to boot normal it does not effect this registry key.
You should now find that your domain controller does not boot into directory services restore mode.

Tags: Active directory
Allen White
Allen is an IT Consultant and holds the following accreditations. MCSA, MCSE, MCTS, MCITP, CCA, CCSP, VCP 4,5, 6 and HP ASE, AIS - Network Infrastructure.