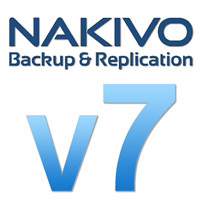 Nakivo V7 is here and I thought I would drop a quick update on the features of the recently released Nakivo V7 Backup and Replication.
Hyper-V Backup
NAKIVO Backup & Replication v7 adds support for Microsoft Hyper-V 2016 and 2012! Out of the box, v7 provides image-based, application-aware, and forever-incremental Hyper-V backup. This means that Hyper-V backups will capture all your data, ensure the consistency of applications and databases, and will transfer only changes to the backup repository after the initial full backup.
Once Hyper-V backups are created, you can easily set up backup copy jobs and send backup copies offsite as well as to AWS and Azure clouds. This way, your data will be safe even if your primary backups are wiped by a disaster or corrupted by a hardware failure or ransomware.
Should you need to get your data back, you can instantly recover files, Exchange objects, and Active Directory objects directly from compressed and deduplicated Hyper-V backups. You can also restore an entire Hyper-V VM back to the same or to a new host in just a few clicks.
Hyper-V Replication
NAKIVO Backup & Replication v7 can create and maintain identical copies of Hyper-V VMs on a target server. The copies (called VM replicas) remain in the powered off state and do not consume any resources, yet you can power them on at any moment for near-instant disaster recovery. Just as Hyper-V backups, the replicas are image-based, application-aware, and forever-incremental.
Support for vSphere v6.5
vSphere NAKIVO Backup & Replication v7 keeps pace with industry updates and provides support for the latest VMware vSphere release. The new version can back up, replicate, and recover VMware vSphere v6.5 VMs right out of the box, without any extra setup. NAKIVO Backup & Replication v7 supports the new VMware vSphere v6.5 features, including new VM attributes, encrypted VMs, and so on.
Skip Swap Files and Partitions
The swap file is used by an OS as a RAM extension – it serves as a temporary storage for data that is not currently used by RAM. The contents of the swap file change constantly, so each time you back up a VMware or Hyper-V VM, the swap file is included in the backup. Since the swap file can automatically grow up to 3X the size of RAM, this means that gigabytes of unnecessary data are processed, transferred, and stored in the backup repository each time you back up a VM. NAKIVO Backup & Replication v7 automatically skips the swap file in VMware and Hyper-V VMs, which speeds up data transfer and saves storage space in a backup repository.
Active Directory Integration
Microsoft Active Directory NAKIVO Backup & Replication v7 provides integration Microsoft Active Directory! You can now easily map Active Directory groups to NAKIVO Backup & Replication user roles, which will allow domain users to log in to NAKVIO Backup & Replication with their domain credentials. With this feature, you can align NAKIVO Backup & Replication with your company's security policy and seamlessly provide Admin and Guest access to NAKIVO Backup & Replication.
Activity Management
NAKIVO Backup & Replication v7 improves backup manageability by introducing the Activities tab – a single place that displays activities occurring in the product, such as running jobs, file and object recovery sessions, repository maintenance, and so on. Here, you get a bird's eye view of all that happens in the product and can stop the running activities and restart the completed ones.
Bulk Backup Delete
Easy way to delete NAKIVO Backup & Replication v7 provides an easy way to delete backups that you no longer need. For example, you can filter out backups that do not belong to any backup job or backups that are older than one year and delete them in a single click. This feature makes VM backups easier to manage and provides an easy way to free up space.
Tags: Nakivo
Allen White
Allen is a Consultant in the North East of England and holds the following accreditations. MCSA, MCSE, MCTS, MCITP, CCA, CCSP, VCP 4,5 and HP ASE, AIS - Network Infrastructure.