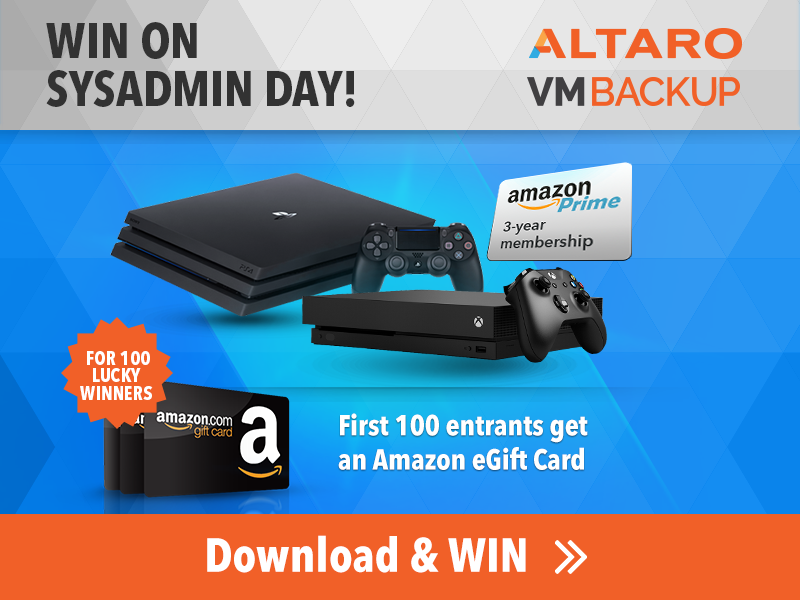 Happy Sysadmin Day with Altaro
Our friends at Altaro just let us know that they are celebrating Sysadmin day by offering some great prices to the first 101 entries.
They are giving away Amazon eGift Cards to the first 100 eligible entries and 1 Grand Prize for 1 lucky winner.
They have some fantastic options for the grand prize including a Playstation 4 Pro, Xbox One X, 3-year membership of Amazon Prime and more, but it will be up to the Grand Prize winner to choose his/her Grand Prize.
What is Sysadmin Day?
SysAdmin Day is all about the people who work tirelessly to make sure networks are up and running as they should. But for Altaro, they are more than that.
They're the people theycreated Altaro VM Backup for in the first place, when they saw the need to provide an easy but powerful solution for Sysadmins all over the world to back up and restore Virtual Machines (VMs).
Tags: Altaro
Allen White
Allen is an IT Consultant and holds the following accreditations. MCSA, MCSE, MCTS, MCITP, CCA, CCSP, VCP 4,5, 6 and HP ASE, AIS - Network Infrastructure.