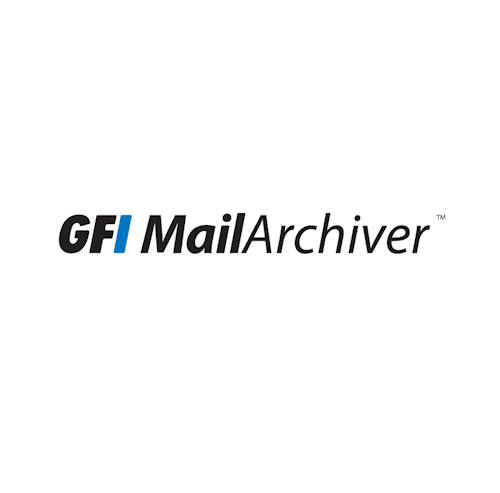 Mail Archiving Solution – GFI MailArchiver
Looking for a solution for clients who use exchange intensively I was looking for a product that kept archives accessible whilst keeping up the performance of exchange. I wanted to take away local PST archives from Microsoft outlook to a centrally managed database that was also scalable. Step up GFI Mailarchiver 2012.Here is a run through of my experience. You can download GFI mailArchiverhere
The Installation
This is nice and simple, the product actually offers to install the roles it requires in advance onto your server, this is a feature I think all products should offer to save time. In addition to this you need .NET 4.0 ,SP.NET4.0 and the mapi collaboration client. Get them here.
Once done click install components, GFI Mailarchiver will install and setup its management console in IIS.
GFI MailArchiver Management Console and Features
On first run you are greeted with a very intuitive configuration wizard that guides you through the basic setup of which servers, mailbox stores, the archive scope and the the method in which MailArchiver archives email.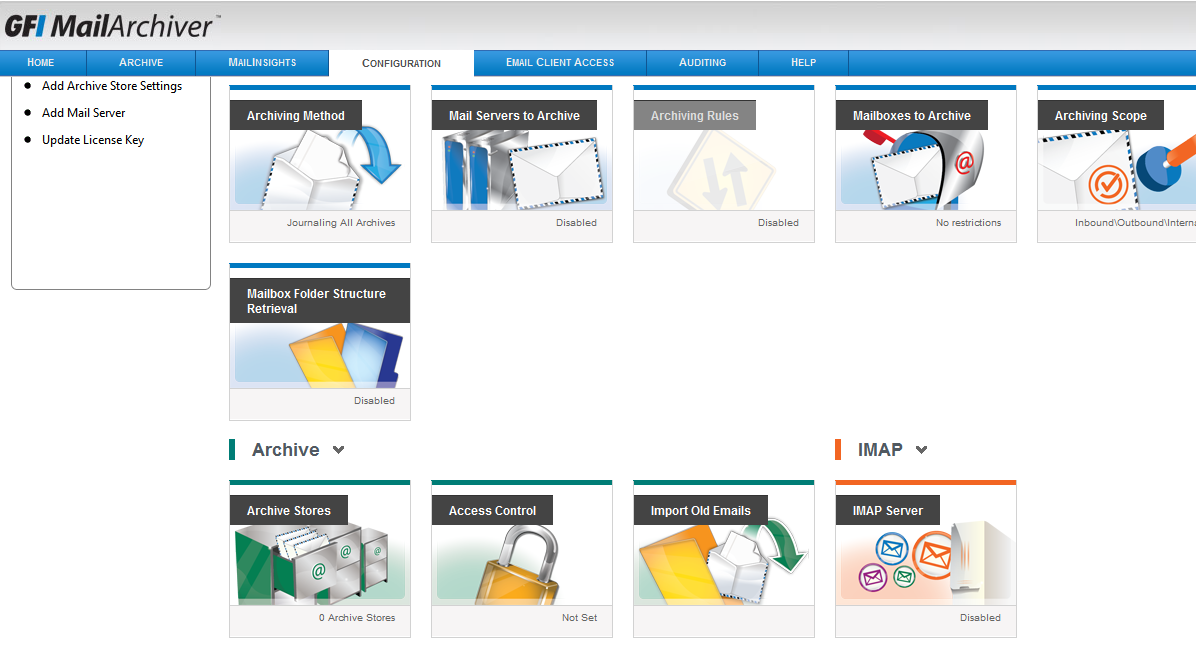 Part of this wizard involves selecting the type of database you would like to run GFI Mailarchiver on, make sure you plan this well, if you think your mail archiving database will grow quickly and be used a lot then SQL may be the way forward if not a local SQL database will be fine.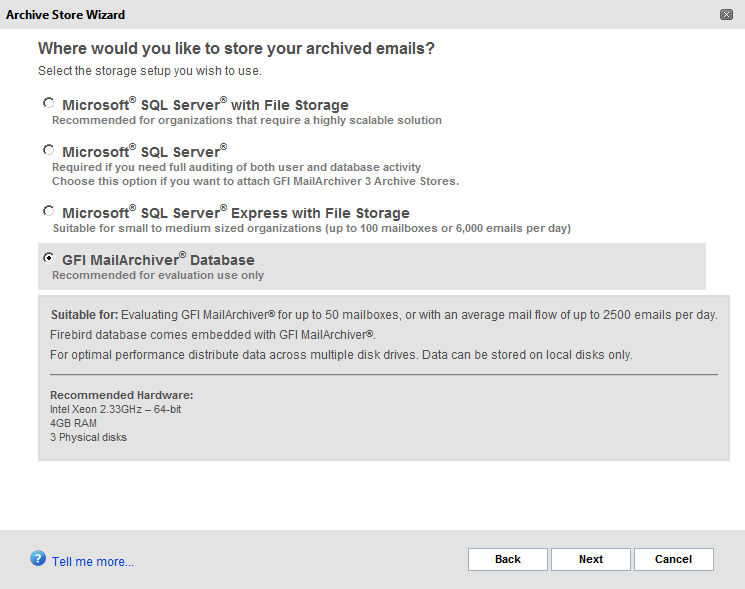 So, now we have selected our database, our mail server and mail stores lets take a look at some features.
Rule Based Archiving
In my situation I didn't require that all mail in the organization was archived, With GFI Mailarchiver`s rule based setup it allowed me to configure only mail that was from senders and recipients in HR and Finance departments, I could of also set this up to use keywords which would be picked up from subject matter and content and archived accordingly. This means we can setup archives which we are legally bound to keep for 5 years. We can store these in the Mailarchivers database as opposed to the Exchange servers database, freeing up resources therefore keeping the performance of exchange at high levels. Additional to this, we can setup file based archiving, this enables all files that are sent via email in the company to be archived. Because of single instance storage only a single copy is stored, again more database optimisation.
No More Local PST Archives
In my situation this was the most useful feature, which the GFI MailArchivers Import and Export utility it allowed me to pull pst files that users had setup locally by installing an agent on the local machine. Once the agent installs it copys the contents of the local pst to the MailArchivers centrally stored database. The immediate benefit from this was we could actually backup the users archives now whereas before we had no method to do so. Additionally we could now give other users access to these archives.
Mail Insights
A feature that I will be using is Mailinsights, this feature will give me reports on various aspects of our mail system such as, once email hits the sydtem how that mail is communicated through the organization by seeing which departments interact and how often.Productivity can also be measured, when an email is received you can check how long it takes for the recipient to respond, this could be great if implemented in a customer services environment for making sure that SLA`s are hit.On top of this there are a number of rules you can enable such as checking how much storage is being used for email, inappropriate language, we can set the system up to make sure employees use the correct language, if they don't a report is generated and the relevant people are notified.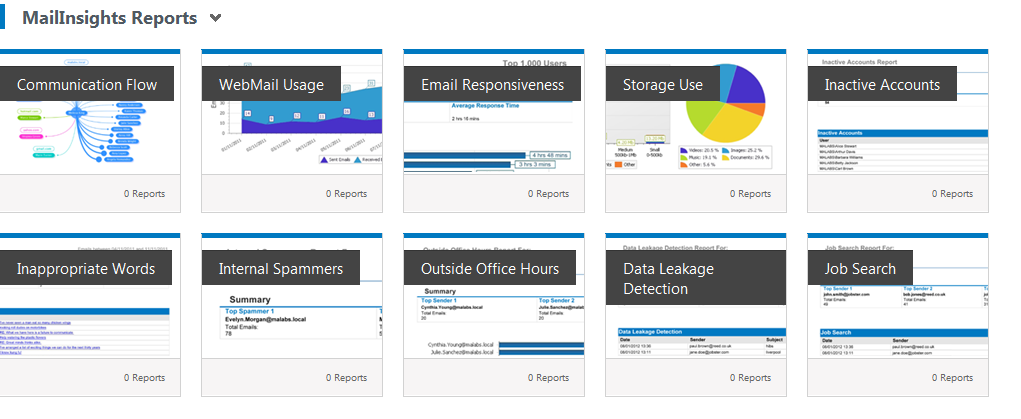 Accessibility for End Users
I have a number of options here, I can setup so that my local users can access archives without any issues using an outlook connector add-on, this gives easy access to the cental store of archives. With permissions been manageable I can grantwho can see what. A feature that will be of use is the IMAP option, this will allow users who are off premises access to mail archives from devices such as laptops, even iPads and iPhones, useful for sales execs who need quick access to previous emails. If the user has no email client..no problem, just fire up a web browser session and attach to the MailArchiver web page.
Summary
To summarize, I can do nothing but recommend this product to any size business, with all its features it can be used as a nice simple Exchange mail archive, through to a  complete email archiving management solution that enables administrators complete management of their archiving system and end users simple access to archives from any device at any time. Check it out for yourself here.
Tags: archiving
Allen White
Allen is an IT Consultant and holds the following accreditations. MCSA, MCSE, MCTS, MCITP, CCA, CCSP, VCP 4,5, 6 and HP ASE, AIS - Network Infrastructure.