Office 2013 – Cannot Activate
When you install Office 2013 and launch any application you will see this bar.Activate Office 2013.

Once clicked you are greeted with the screen below, you can activate with your personal or organizations account. What this does is it goes off and checks what license your organisation has and makes sure you are associated with it. You can also see "enter a license key instead".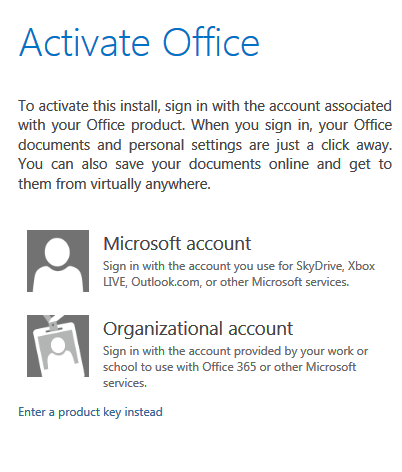 If you select to activate office 2013 with you Microsoft accounts you may see the errors below.

"The products we found in your account can't be used to activate outlook".
or
"The account xxx isn't associated with this Office product. To activate this install, please sign in with the account associated with your product".

This can be caused by having th preview version of office 2013 still installed on your system. To fix this issue you must use the enter license key option instead. If you can not see this option on screen do the following.Go to Control Panel, select "Microsoft Office Professional Plus 2013" and choose Change.You will then get the option to insert your office 2013 product key.

&nbsp