SBS2011 Migration,Incorrect Username, Password Or Domain Incorrect
I recently had to migrate a client from standard Server 2003 to SBS2011. Part of this process involves creating an answer file that includes the administrator account , the domain name, the password and various other pieces of information.
I did this as normal.When you proceed to install SBS2011, it then asks you to provide the answer file with all the information mentioned.On this particular install then install would not accept the answer file. When I hit return the SBS2011 server kept coming back with the User name or password is incorrect, please check and try again. Now I new this was wrong.
On the 2003 box in event viewer there was this error.Event ID 529 Uknown Username or Bad Password.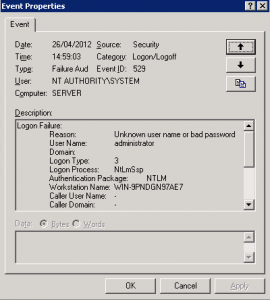 Again, I knew the password etc was correct.

It turns out that the issue was a Time/Date issue. As the server was brand new the time in the bios was incorrect, therefore when the new SBS2011 box tried to authenticate to the domain, the 2003 domain would not allow it.

So, while you are at the screen where it say please enter your user name and password, press CTRL+ALT+Del.

You will see task manager run it , then select file and Run. Enter CMD to drop to a command prompt.

Then enter TIME, and enter the correct time. Then enter DATA and again enter the correct date.

Now, when you try and authenticate to the 2004 domain, you will find the sbs2011 migration will continue.

&nbsp

Tags: migration