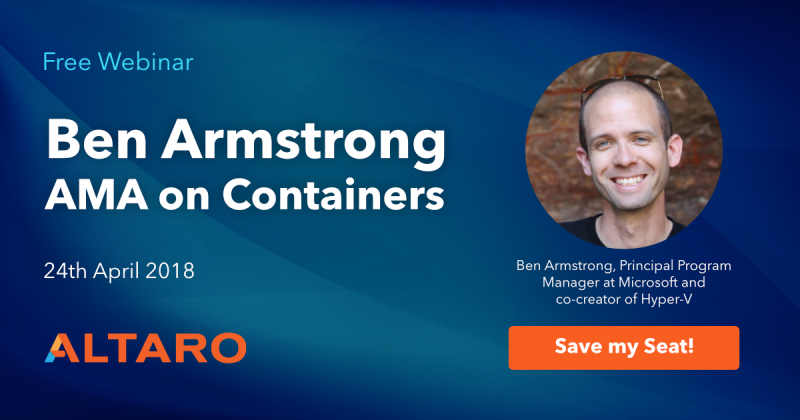 Altaro Free Webinar with Ben Armstrong Principle Manager from Microsoft
Our friends at Altaro dropped us an email to let us know of a great free upcoming webinar with Ben Armstrong from Microsoft. This webinar is a rare chance to ask your technology questions directly to Ben Armstrong drawing on special insights from the inner workings of Microsoft and over 20 years of experience working with operating systems and virtualization. It's an opportunity you cannot miss!
If you are interested, followers to upload their questions to Ben through social media in the coming days until Tuesday, and include #AskBenArmstrong. After the webinar, we'll have a webpage with the typed out Q&As from Ben.
Who is Ben Armstrong?
Ben Armstrong – Principal Program Manager at Microsoft and co-creator of Hyper-V, you may also know him as "Virtual Pc Guy", his old and new blog can be found here https://blogs.msdn.microsoft.com/virtual_pc_guy/
Tags: hyper V
Allen White
Allen is an IT Consultant and holds the following accreditations. MCSA, MCSE, MCTS, MCITP, CCA, CCSP, VCP 4,5, 6 and HP ASE, AIS - Network Infrastructure.