Mcafee Epolicy – Disable AV Updates Notification for Users
Nice really simple one today, a client asked me if I could disable when Mcafee Virus scan was updating from been seen by the end users, the client uses Mcafee Epolicy to perform managment of the end user clients. obviously the still wanted the latest updates but they wanted the updates to be silent.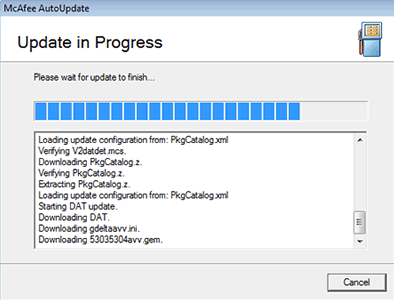 In Mcafee Epolicy the updating of DAT files and patches is handled via the Mcafee Agent, so the task that needs modifying is under the following.
 Client Task Catalogue > Mcafee Agent > Prouct Updates
Within this category you should have an update task, select edit and you will see the following section.

Un-tick the Show Update in Progress option then reapply the policy by waking up the agents and uses will no longer see the update screen
Allen White
Allen is an IT Consultant and holds the following accreditations. MCSA, MCSE, MCTS, MCITP, CCA, CCSP, VCP 4,5, 6 and HP ASE, AIS - Network Infrastructure.