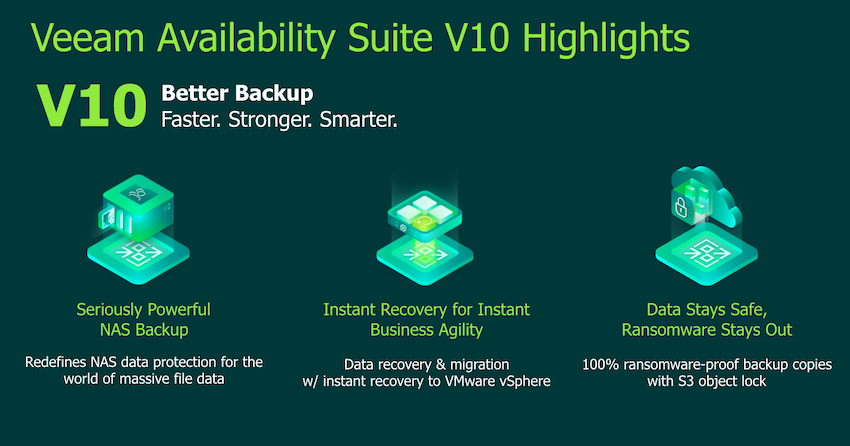 Veeam Availability Suite v10 is here!
It's here! Veeams flagship solution, Veeam® Availability Suite™ v10, has been officially released, and they have packed it with more than 150 groundbreaking features. We're excited for you to have a chance to test it out, so here are a few links:
NEW Veeam Availability Suite™ v10, ushers in the next generation of data protection capabilities that increase data availability, portability, and extensibility. Veeam Availability Suite v10 protects modern workloads at scale with broader backup capabilities to address unstructured NAS data, achieves increased security via immutable backups with S3 Object Lock, and empowers deeper ecosystem API integration options, enabling organizations to save time, reduce costs and exceed recovery objectives.
Supercharged SAP and Oracle backups
Easily meet backup objectives for SAP HANA and Oracle databases with parallel backup stream processing.
Seriously powerful NAS Backup
New capabilities that redefine NAS data protection to deal with the world of massive file data.
MORE DETAILS
Multi-VM Instant Recovery
Accelerate Disaster Recovery with mass instant restores powered by Veeam's next-generation Instant Recovery engine.
LEARN MORE
Data stays safe. Ransomware stays OUT
100% ransomware-proof backups with S3 object lock functionality and immutable backups.
FIND OUT MORE
Recover anything to vSphere
Data recovery and migration made easy with
instant recovery of ANY Veeam backup
to VMware vSphere.
LEARN MORE
Flexible Oracle recovery
Go beyond traditional RMAN recovery with the flexibility to publish, export, or redirect your Oracle database.
MORE DETAILS
Databases are a snap!
Deliver zero impact snapshot protection with log backup and granular recovery for even the most data-intensive apps.
FIND OUT MORE
Stay on top of Nutanix AHV
Be proactive! Make confident,
informed decisions while protecting Nutanix AHV workloads.
LEARN MORE

Put the spotlight on file data
Cut costs through better storage usage and planning, thanks to new insights for NAS data.
MORE DETAILS
Seal your data. Save your money
Reduce costs for cloud egress and migration by sealing backups, preventing
new writes until data ages out.
MORE DETAILS
Allen White
Allen is an IT Consultant and holds the following accreditations. MCSA, MCSE, MCTS, MCITP, CCA, CCSP, VCP 4,5, 6 and HP ASE, AIS - Network Infrastructure.