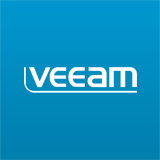 Cancel A Veeam Job Hung In A Stopping State
IT Problem
Saw this issue recently at clients who is running Veeam to backup their VMware VM`s, The backup job was running but we needed to stop it and modify it again. When we went to stop the job it changed to a "stopping" status but just sat there. We tried numerous things to actually end the job but it still remained in a hung stopping state. Read the solution below on how to kill a Veeam backup job.
IT Solution.
The first thing we need to do is go to the services and stop the Veeam services. You will see the services below highlighted that you need to right click then select stop.
So first the services console…
Then stop the services highlighted below.
We then need to run task manager so press CTRL+ALT+DEL then select task manager, or right click the task bar and select task manager. Then make sure that you select Show Processes From All Users.
Locate any process that mentions veeam right click and end process, however the one process that is holding the the job is VeeamAgent,  you must kill this process to stop the veeam backup job. Once this is done, go back into services and then start all the veeam services. You will find your job has now stopped and you can modify and schedule accordingly.
Allen White
Allen is an IT Consultant and holds the following accreditations. MCSA, MCSE, MCTS, MCITP, CCA, CCSP, VCP 4,5, 6 and HP ASE, AIS - Network Infrastructure.