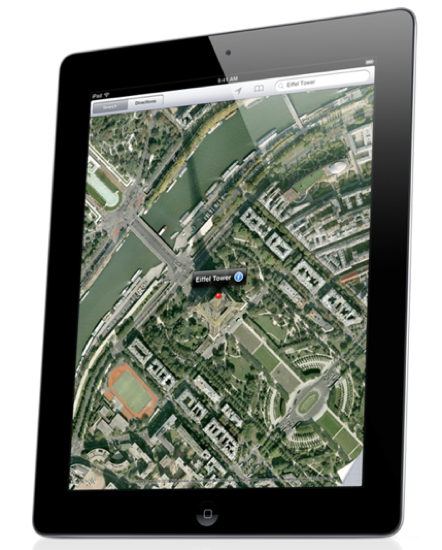 View Google Maps For iPad 2
IT Problem
You want to view google maps on your IPAD 2. This is possible by using the built in maps app. If you have a 3g version of the ipad 2 this is useful for live navigation.
IT Solution
Follow the guide below for a quick and easy way to use google maps on your IPAD 2
So first lets use the google maps app, Tap the "Maps" icon on home of your Ipad 2. You will now see at the top of the screen the option to search.
We need the keyboard now so press the search area,  you can now type the address of the map you would like to see. Use streets, zip codes, post codes or places of interest such as empire state building
Once you find the map you have searched for you can hit the pin on what you have searched for to gather further information on the area of choice on your ipad 2.
You can zoom in and out with your standard finger movements on your ipad 2 by pinching your fingers together, at the bottom corner of the map if you tap the corner  edge you get the option to switch to satellite where you can view the map with even better detail from a satellite.Again you can zoom in and out.
Like standard google maps, once you are at your chosen area you can hit directions to find the distance from point a to be, you can find local shops etc. This is really useful on the 3g variant of the Ipad 2.
If you would like to go into streetview mode in google maps on the iPad, then simply go to drop pin and drop it where you would like to see at street level.
Read our guide on how to transfer files from you ipad 2 to your pc and back or maybes you want to pair your wireless keyboard or any device with your ipad 2
Allen White
Allen is an IT Consultant and holds the following accreditations. MCSA, MCSE, MCTS, MCITP, CCA, CCSP, VCP 4,5, 6 and HP ASE, AIS - Network Infrastructure.