iPhone 4s, 5s and 6 Not Showing Contact Names
I was using my iPhone 4s and needed to reply to a text/SMS message that I had received earlier. When I went to reply to my collegues SMS message I was confronted with all my SMS messages being shows from phone numbers rather than my contact details. After searching the web there appeared to be thousands of people with this issue running IOS 5. Below I've put together a number of the fixes that can resolve the issue of the iphone 4s sms not showing contact name. This also applies to the iPhone 5s, 6 and IOS 7 and IOS 8,
 iPhone 4s, 5s and 6 SMS Showing As Numbers Solution
OK, when I had this issue the first thing to try is a hard reset of the iPhone  ( you will not lose any information ). To do this hold down then iPhones "Home" button and the power button. Turn off the iPhone. Then do the same to power on the iPhone, keep both buttons pressed until the apple logo appears. Then check you SMS messages. If its not fixed then read on.
The next thing we can try is reset the iPhones network settings, a lot of users report that this fixes the issue, especially iPhones on the Verizon networks.

So first Select Settings then general.At the very bottom of the general settings screen you will see reset, Select reset and you will see the screen below. We then need to select Reset Network Settings. You will be prompted to enter your ,do so, it will then reboot. Now go test your SMS settings, if they are not fixed then read on.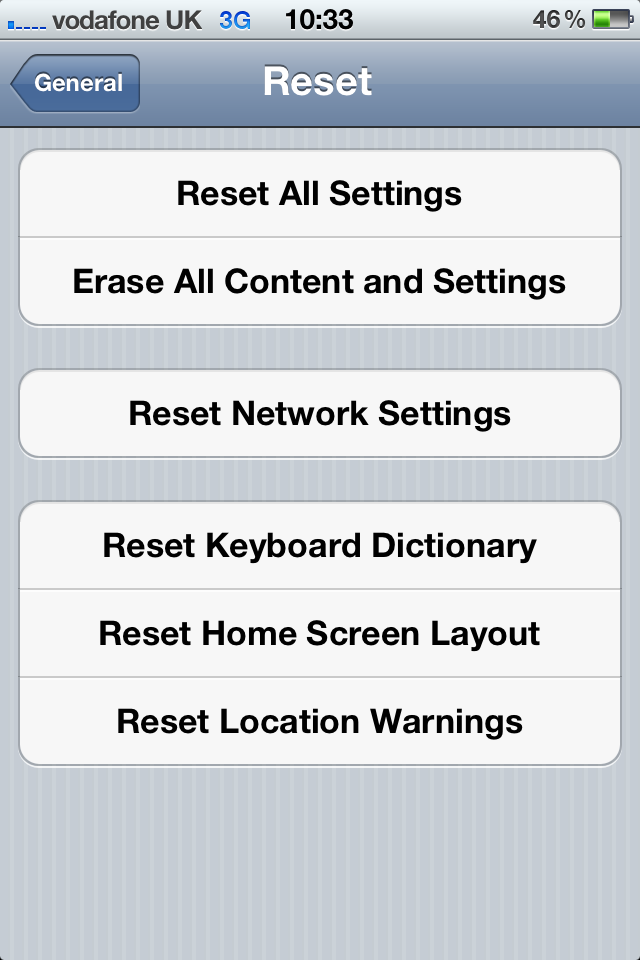 Various people have all found that disabling international assist will resolve this problem, to do so go to settings then Phone and slide international assist to off. Again reboot the phone, test SMS. Fixed? no then lets restore from backup.
Apps That You Need!
Before we resort to the final option below which is restoring from backup, id advise you use one of the apps below for contact management, these apps allow you to backup your contacts (lets do so) and all sync to the cloud so we never lose our contacts again. Pick one install it and backup your contacts before we do a full restore.
Restore The iPhone 4s From A Previous Backup
This is what actually resolved my issue, each time you connect to iTunes you backup your iPhone 4`s to restore do the following.
Connect you iPhone up to your PC, Laptop or Mac.
Launch iTunes
Then on the left hand side of iTunes right click your devices then select Restore From Backup
You will be prompted for you password to restore the iPhone. Enter it. You phone will now restore and reboot. You should see now that your SMS settings are working and correct.
Tags: Iphone
Allen White
Allen is an IT Consultant and holds the following accreditations. MCSA, MCSE, MCTS, MCITP, CCA, CCSP, VCP 4,5, 6 and HP ASE, AIS - Network Infrastructure.