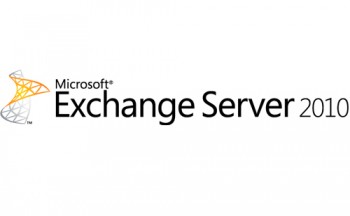 Stop Users Sending Or Receiving External Emails in Exchange 2010
Exchange 2007 and Exchange 2010 has a feature called Transport Rules. Transport rules as the name suggests allows you to setup various rules on how email is transported around your mail organization. This guide will show you how to setup a transport rule that will block selected users from send mail to people outside the organization and also receiving email from users outside the organization.
Stop Users Sending External Emails
Here I will show you how to stop users who are members of distrubtion group sending external mail. First launch the EMC and then under Organization Configuration select Hub Transport. On the centre MMC you will now see Transport Rules. Select it.

Now right click and select create New Transport Rule. Give your Rule a valid Name and comment so you can locate it easy.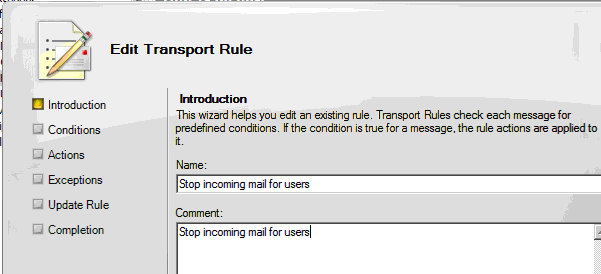 Now enter a tick in the section called "from a member of a distribution list. At bottom you can now enter the distribution group that the users are a member of who you do not want to send external email. If you wanted to do this on an individual basis then you would select the option "from people" Have a play with the rules to choose your best option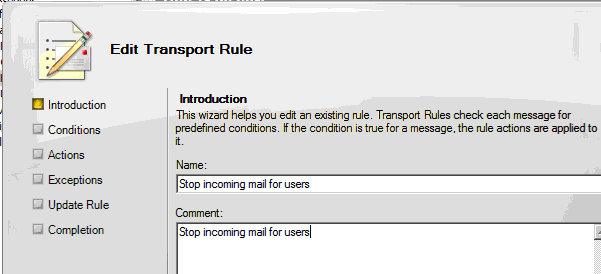 The next condition we are going to add is when this applys. So , select sent to users inside or outside the organization.Then under the new option select Outside the Organization.Then click next.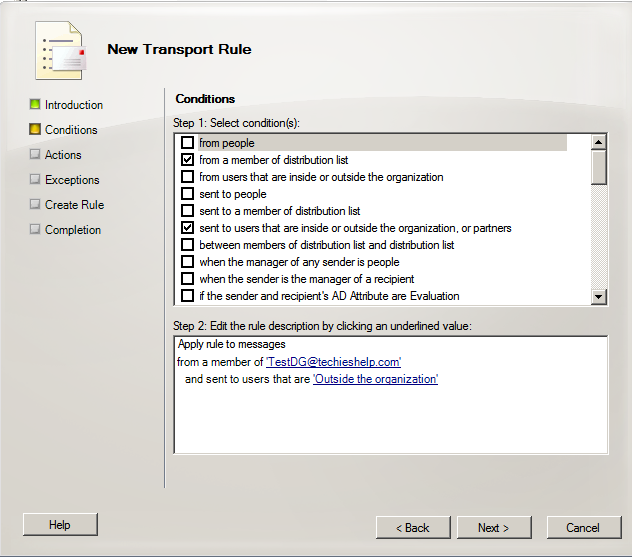 We now need to setup the actions was are triggered when these rules are hit.We have two options here, we can either delete the message and it will not notify anyone, or we can send a rejection message to users stating that they are not allowed to send external mail. I prefer this as users will now know they are not allowed to send external mail. Select the option which suits you.Enter your rejection message and choose the enhanced status I just use 5.7.1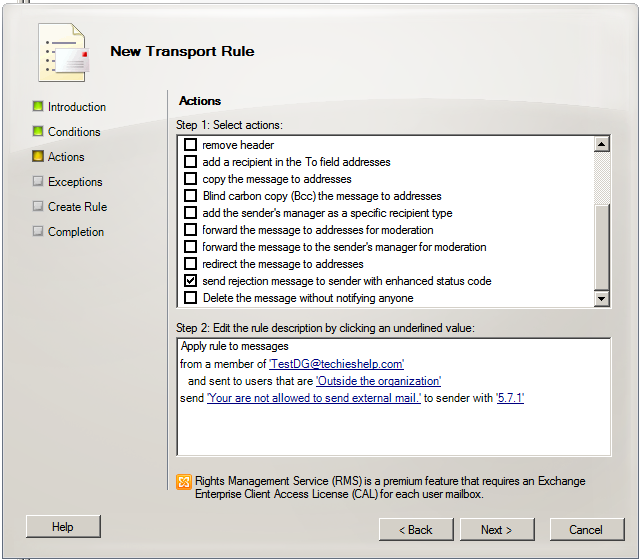 The next screen you can setup exceptions such as only allow the users to send to a certain domain or only if they are sent to certain people in a certain domain. This is useful if a person only deals with one other company etc. Once done click next again.Finally click new and the rule is generated.
Stop Users Receiving External Emails
This is almost the same as above so I will only show you the differences. Again create the rule and give it a valid name. Then this time select "from users that are inside or outside the organization and sent to a member of the distribution group. again you could select people instead of groups. Enter the details such as the group and change the option to outside the organization.You can see my setup below.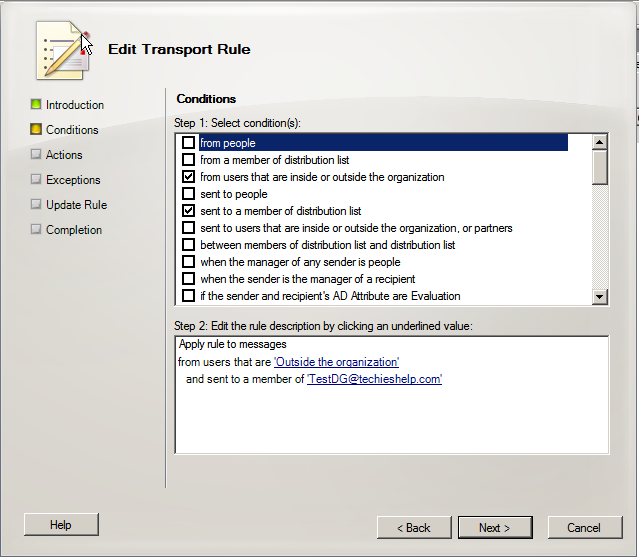 Again under actions choose your action. You can select to either drop the mail without notification or you can notify the sender. In this situation I normally choose to just drop the mail. This is now complete.
Tags: transport rules
Allen White
Allen is an IT Consultant and holds the following accreditations. MCSA, MCSE, MCTS, MCITP, CCA, CCSP, VCP 4,5, 6 and HP ASE, AIS - Network Infrastructure.